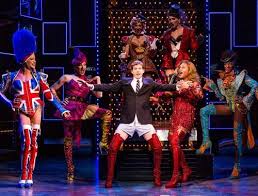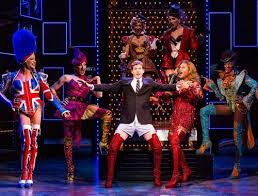 Issues in the Classroom
The musical KINKY BOOTS is about discovering your passion, conquering prejudice and surpassing stereotypes. These themes are familiar and certainly still real issues because we still have yet to accept the message and these continue to be issues in the classroom and in society. KINKY BOOTS may at first appear to be fairly outrageous and flamboyant as it presents sequined and feathery drag queens, but the themes that dominate the musical are significant. Imagine a classroom where every student is confident in his/herself and in their aspirations. Imagine a school where prejudice no longer exists. Imagine a world where kids are not pigeon-holed and labeled as "failures" because they are from a low-income or unsupportive family. Individuality needs to be encouraged, and it all starts in the classroom. These children, as its commonly said, are our future. If they are taught that it is okay to follow their own path and that it does not matter what anyone else thinks, they are going to teach their children to be the same way, and it will make our society a better place.
Diversity and Acceptance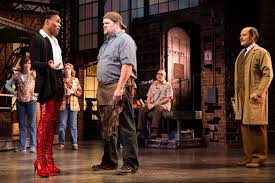 KINKY BOOTS presents drag queens as the musical's spiritual leaders. These flamboyant drag queens (Lola and her Angels) meet their "opposites", small-town traditionalists (Charlie and his employees). Each ensemble member in this musical has a specific individuality, and the theme of diversity is further emphasized physically through a variety of body types. Together, the drag queens and the conservatives strive towards freedom and acceptance and triumph over adversity.
This message of tolerance and understanding is crucial in schools today because discrimination and an inability to accept people who are different often results in bullying. KINKY BOOTS, while entertaining, offers us important lessons that we can apply to the classroom, playground, the cafeteria and every aspect of a student's life.
Social Issues
KINKY BOOTS is an inspiring musical for this age with its theme of the need for society to change its viewpoint on people it perceives as being different. The story takes place in a British factory town that is experiencing tough times—jobs are in danger and the people of the town are in need of hope.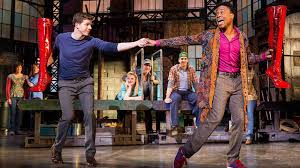 The main character in desperate need of spiritual guidance is Charlie Price, who aches to live in London with his fiancée, Nicola. Charlie is trapped in the provinces when his father dies as he must rebuild the family business, the struggling Price & Son factory, and save it from bankruptcy. Lola, a drag performer whom Charlie meets randomly, is the leader in the transformation of the business. Lola helps Charlie discover that there are cross-dressers in their market who need well-made footwear, specifically high-heeled boots, and up until now, this has remained unexploited territory. This message regarding the successful transformation of the business through acceptance of diversity and bringing new ideas to the table is an important one for business owners of today.
One more thought…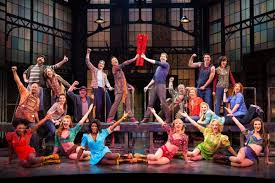 KINKY BOOTS is a worthwhile musical for high schoolers to see because its themes can be taught in the classroom, as well as applied to society and in the business world in general. (Themes and situations are not appropriate for primary school kids.) Educators can get a head start by encouraging acceptance and individuality in school. We are already beginning to witness support of diversity via media, but the fight is not over yet. Business owners, if they want to survive in these times, have to be accepting of many different individuals. They also need to be accepting of themselves and their unique ideas to succeed. KINKY BOOTS may preach about adjusting to change, but it is also reminding us of a very important, age-old virtue: humanity.