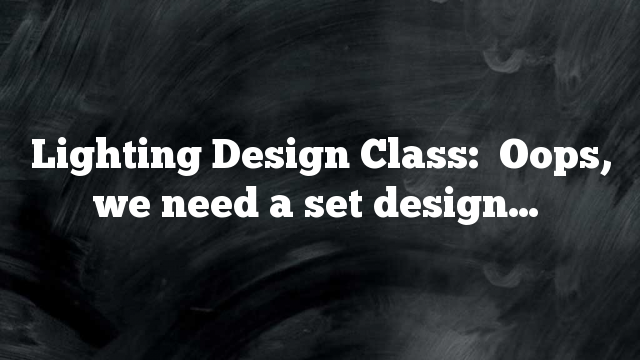 Lighting Design course projects typically need a set design to be provided for the project to go forward.
Included in this compressed folder are
JPEG rendering of the set.
PDF groundplan of the set.
PDF section view of the set.
AutoCAD file of the groundplan and section.
This is a set design for Oedipus Rex. It was created for a lighting design project at Plymouth State University. It was never a real production.    It was designed for Hanaway Theatre at Plymouth State University. This is a 51′ proscenium theatre seating 660 people.
The set design includes 10 half-columns. The columns are intended to be constructed using white fiberglass roofing material, so that they are translucent.
The doors upcenter have an escape stair. These are the doors to the palace.
The clouds shown on the cyclorama can be considered to be projections, gobos, or paint. This is left to the discretion of the instructor.
You may do what you like with this package. Scale the design for your own space, or leave it as it is. You may edit the rendering or the AutoCAD file.
Exercise Contributed by Matt Kizer
Matt Kizer is the webmaster for BroadwayEducators.com and is the head of the Design & Technology Program for Theatre at Plymouth State University, Plymouth, NH.