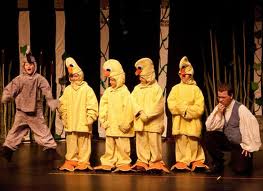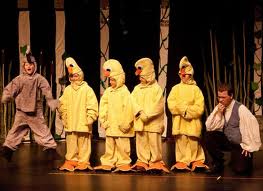 I toured with a children's music theatre company a few years back to schools, working with students. My tour partner and I toured all over the country, and every week we resided in a new town and school. In each residency, we directed a full-length musical for youth (ages K-12) in just five days. Some weeks went remarkably well: the kids learned their lines quickly, they followed directions well, and the process ran smoothly. Other weeks, however, we doubted that we would have a show ready by the end of the week. Magically, no matter how difficult a week was, the show was always a success. The tour culminated with an abundance of wonderful memories, and despite the fact that I was playing the role of teacher/director, the students also educated me with plenty of valuable lessons.
Talent and behavior should be rewarded equally
One memory I will cherish forever is from a residency at a school in Portland, Oregon. We were casting The Frog Prince, and from the moment we entered the "cafetorium," we knew it was going to be one of our more challenging weeks. We were informed that many of the students at the school were high-risk so at least we were prepared for a chaotic two-hour audition process.
Our company trained us to not only pay attention to talent, but to respectful kids who followed directions. We had the whole show cast except for the lead role of the Swamp Frog. The boy whom we were considering to play the part was spot-on with the character, but he was extremely disruptive during the audition. If he could not handle two hours of focus, how would he behave in even lengthier rehearsals? We had to find a new Frog. There was another fifth-grade boy named Ahmed who was well-mannered, but he lacked consistency with his clarity and projection. He was quite humorous with his actions, however, so we mutually decided to offer this student the chance.
Refrain from labeling children
Our decision to cast Ahmed as a principal role in our theatre production caused teachers to question us. They informed us that he had ADHD, and that his grades were low as he was basically illiterate. They did not believe that he would be able to learn his lines. All this negative energy made us skeptical and nervous, but the cast was already announced so we had to move forward with our choice.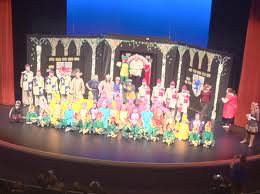 Luckily, we had the opportunity to work with this child every rehearsal. He was a charming young actor, but whatever ADHD symptoms he displayed in school were focused towards his character. His teachers were right, however, about his reading level. Normally, the cast was encouraged to use their scripts as much as they needed to for the first couple of days, but Ahmed's reading level was so poor that it was taking up rehearsal time.
We ended up giving him line readings during blocking rehearsals (although he still attempted to follow along in his script) and teaching him to project and to annunciate was a breeze. Ahmed had two older sisters who were also in the musical, and they helped him learn his part. By the end of the week, Ahmed knew the story of The Frog Prince forwards and backwards. He still struggled with reciting his lines precisely, but he was so connected to the plot that he covered for himself—and for other actors as well! There were scenes during the actual show where his fellow cast mates completely blanked out, and he saved them and kept the story moving forward.
Children will surprise you
Ahmed's teachers and parents were highly impressed after watching Ahmed in the play. His mother stated that in only five days his reading level improved. His teachers admitted that they had never witnessed him put so much effort into a project. The music teacher was grateful that Ahmed's "secret talent" had been discovered. If we did not give him the chance, he may never have set foot on stage. The most important lesson I learned was that children will accept a challenge and run away with it. If an adult is asked to memorize a full-length musical in five days, they most likely will freak out. If a student is asked to accomplish the same task, they simply accept it without second-guessing. That is one interesting observation I made of Ahmed: he did not even show anxiety when he found out he was playing the lead role, and in rehearsals, he remained positive and unhindered.
This is only one memorable educational experience I had on the road, but it is one of the most crucial. If classroom teachers knew how well students respond to theatre arts, then it would be used more frequently as a teaching tool (and it can be used in all subjects). If directors respected work ethic and personality as much as talent in young actors, imagine how much confidence would be instilled in more timid actors so they can grow. If teachers and directors take the time to observe youth in a theatrical setting, they will see mass amounts of unhindered potential waiting to be taught.