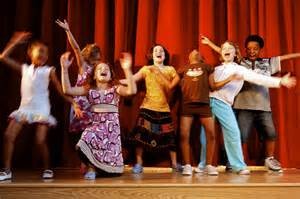 I spent the last five months teaching little kids about music. I had six 45-minute time slots with 24 children in each class and it was one of the most difficult challenges I've ever had to deal with. It was only one day a week but I couldn't sleep on the nights when I would be making up curriculums. The kids were all from a city and they had city attitudes. However, I found a serious love for working with the youngest ones between grades 1-3. Most of our classes were movement related and I found ways to incorporate drama.
Summer Acting Classes with the Little Ones
I'm glad to have already gotten this opportunity since I will be teaching acting classes to kids that age all summer. Thankfully, there won't be one adult to 24 students this time… But I found that movement exploration was really beneficial. I used a book called "The Book of Movement Exploration: Can You Move Like This?" by Feierabend and Kahan. It provides a great baseline for games that can be expanded on. Some of the games we played will make an appearance again this summer.
One of the games I'll be using again was constantly asked for by all of my classes. The activity brought storytelling, body movement, and class volunteers together to fulfill a plot. The story was called "The Hop'n Pops and the Looberoos!" It was about these two groups of people who lived life differently. "The Hop'n Pops moved fast and the Looberoos moved slowwwww and they were NOT friends!" The two groups of kids have to act out whatever the storyteller reads on the page and they giggle so much when they realize what they have to do with their bodies. From this exercise I wrote other stories, put them to song, and had kids in the class put on different plays to end each session.
If You Ever Find Yourself Stuck…
Focusing kid energy can be a tough gig sometimes. They like to talk back, won't keep their hands to themselves, and don't always follow directions very well. However, leading them through an exercise where they don't know what the outcome will be, like storytelling, is a great way to focus their attention. Give them guidelines to start and try to use your best storytelling voice to put them in the world being created. If you can create the child wonderment needed to focus their energy, you'll see the reward!