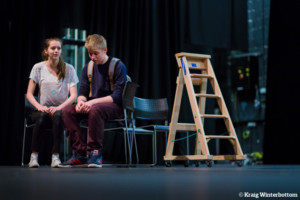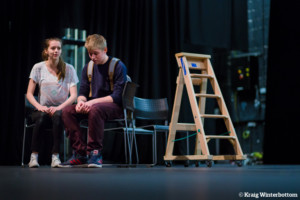 You can use this side coaching exercise when working with actors in class or on a show. Side coaching can be useful in a few ways. Primarily, it gets performers to act and react without thinking. That is to develop and follow their instincts. This often leads the actors to make new discoveries about themselves, their character or the scene in which they are playing. The basic side coaching exercise that is outlined can be used in various ways. Here's a quick explanation of side coaching and a look at four ways in which you can apply this exercise.
The Essence of Side Coaching
Side coaching is the process of giving direction to actors when they are involved in working on a scene. The suggestions are usually simple and may take the form of actions, emotions, playing styles, concepts or other forms of suggestion which the actors take and utilize in the scene. The actors must keep the scene going and are to react instantly to the coaching.
Improving Improvisation Skills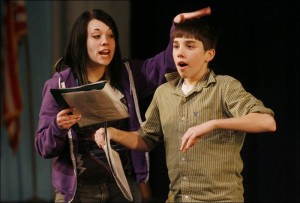 When working on an improvised scene side coaching can help keep actors focused as they stay in the moment and react to the coaching and to their scene partner. With side coaching actors can't preplan what they will do as the suggestions are designed to keep them in the moment and flow of the improvised scene.
Discovering Character Subtleties
Often when side coaching is used in a scene from a play, actors can discover new details about their character. When an actor is totally open to the coaching, they will begin to follow their instinct (which is an important aspect of any art form) and make choices they might have never made on an intellectual level.
Clearer, Cleaner Scene Dynamics
Because side coaching frees the actor to make instant choices, they start to develop the ability to make clean, crisp transitions and to be clear in their intentions. That improves the actor's ability to find and play the various dynamics in a scene.
Making a Strong Character Connection
The more that an actor can identify with a character the stronger their performance will be. Actors can begin to find personal connections with a character as they use suggestions from the side coach. Some of the side coaching they utilize will spark and awaken memories, emotions and instances from their own life, which will help the actor find similarities between themselves and their character.
Solid Exercise
The side coaching exercise in our resources area is a strong exercise grounded in solid acting principles. Use it as it is or adapt it to fit your needs. It will work on any number of levels.
Featured Contributor: Anna Smith
Anna is a graduate of Plymouth State University with a Theatre Arts degree concentrating in Acting & Dramatic Writing. She is currently a teacher at the Bedford Youth Performing Company (BYPC) a non-profit 501c small business company. At BYPC, she currently teaches acting classes, film makers classes, directs spring shows, directs summer camp shows, and participates actively in the "Circle of Giving" program. Circle of Giving is the community outreach service provided by BYPC that helps bring theatre, music and dance to children (and elderly) who may not otherwise have the opportunity.