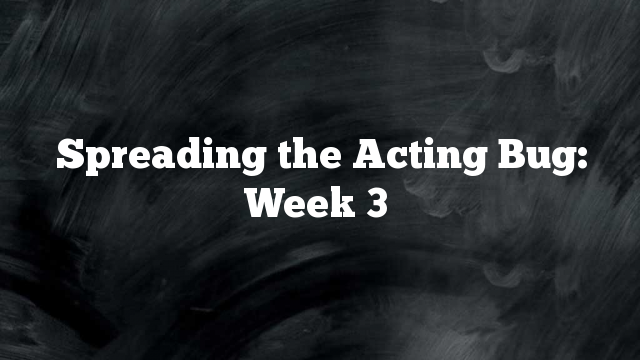 Every Saturday morning, I'm lucky enough to get to teach a group of 7-10 year olds doing acting games and improving self-confidence. This weekend, we took a break from classes and the students were invited to watch a youth production at the Seacoast Repertory Theatre in Portsmouth, NH. This theatre's youth productions are unique because the artistic director, Miles Burns, directs, writes, and composes music for the shows specifically around the children cast. This weekend's production of Run, Turkey, Run was hilarious, smart, and put everyone in the audience in the holiday spirit!
Portsmouth Academy of Performing Arts (PAPA)
The Acting Bug classes I teach are an extension of the PAPA group out of the Seacoast Repertory Theatre. The classes teach younger kids who don't have a lot of theatre experience and work to urge those children to try the PAPA mainstage productions. The mainstage productions are unique because Miles Burns writes the stories around the kids after getting permission from local children's book authors to make children's musicals out of their stories. They also include professional actors from the adult mainstage productions who continue to give the children confidence and added mentorship onstage.
Run, Turkey, Run is a book by New Hampshire local, Diane Mayr, about a turkey who is trying to escape a farmer so he can see what all the fuss is about Thanksgiving. He runs around the farm trying to disguise himself as different animals, but fails until all of his animal friends can help him realize that he needs to go beyond the farm. The entire book is in rhyming verse and the Seacoast Rep production closely follows the original story throughout the musical. The jokes are great for adults and children alike making the show, much like every other PAPA mainstage production, enjoyable for all ages.
Rudolfoletto
The next production on the PAPA mainstage is Rudolfoletto. Written by NH native and Dartmouth grad, Douglas Lanphier Wheeler, Miles Burns will be directing the next cast of youth actors along with some mainstage actors from the December production of A Wonderful Life the Musical (Raposo/Harnick). The show is an operetta version of the classic Christmas tale and will be starring Kevin Mahaney as Prancer and Jason Faria as Rudolfoletto.
If you're ever in the Portsmouth area during a PAPA production, their shows are great examples of the process that improves the self-confidence of youth actors. See you next week for another edition of Spreading the Acting Bug!