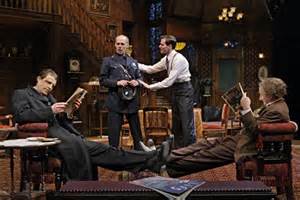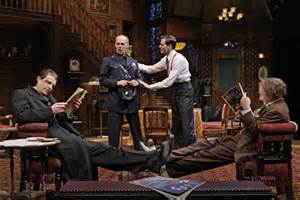 It's interesting but farces, which should be hilarious, are often deadly on stage, and often it's not the fault of the playwright. In fact, most audiences have witnessed some very fine farces given very poor productions, making them dull, slow, and not very funny at all. What's the trick in doing a farce and where do many directors fall short? In essence it has to do with the timing, but within that word "timing" are a multitude of elements.
Doors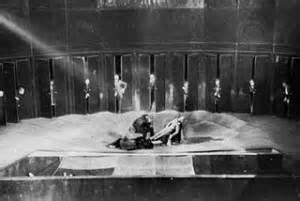 Much of the comedy in any farce revolves around someone entering, while another is exiting, and one person just missing the next or just catching the next person. It is impossible to stage a farce without at least three doors, and, preferably, you want more and you want to use every one of them. Also, the doors need to be sturdy. They have to be able to be slammed. People are running off and on, and there should be a lot of energy in those characters, so doors slamming are standard.
Obstacles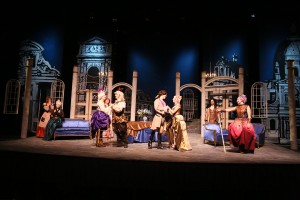 Physical obstacles, such as long stairways, furniture, and large props, are all necessary. These are not arbitrary items. They should certainly make sense in terms of the script and the setting. Often they will be called for in the play and fully described. The point is it's important to pay attention to the physical composition of the space in any play, but in a farce it's exceptionally essential. The thing about obstacles is they get in the way of characters who really need to try to do things very quickly and that can create great opportunities to develop and hone great physical comedy.
Physical Comedy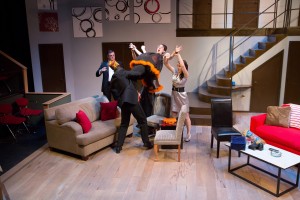 A farce is dependent on physical comedy. A good 50% of the laughs in most farces come from something associated with a physical action on stage. It might be the manner in which an exit or entrance occurs, the way in which something is given or taken from someone, or the manner in which someone interacts with another person physically. As a director, you have to ready to explore all of the possibilities of physical comedy when directing this type of play.
Lines
Comic lines are not funny if they are not articulated properly and if the rhythms are misunderstood or ignored. Also, within lines, operative words become very important in terms of setting up jokes, creating comic situations, and supporting funny bits. Additionally, slow line pickups between actors can be deadly, especially when dialogue is supposed to overlap. It all needs to make sense, every word, and everyone needs to know their lines inside out.
Desperation is Key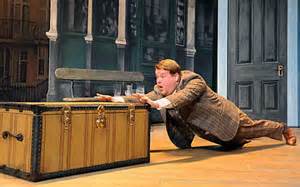 Characters in a farce are exceedingly funny to audiences when they are in a state of desperation. Yes, this is a comedy, but only for the audience. Thus, the characters on stage have to be motivated in a very strong manner. They don't sort of want something, they really need what they want or desire or their entire life will be ruined. It's the desperation that, in part, creates the energy that, in part, creates the comedy. No lethargy allowed in farce. Actors need to push their objectives constantly.
Making It All Click
Finally, it really is all in the timing. And with a well written farce the timing must be impeccable. That means rehearsing the same 30-second piece of business, or two- minute French scene, or five-person dialogue exchange over and over until it is seamless. In doing so, you've honed and crafted one part of what will be a continuous evening of nonstop comedy. In the end, farce is really that basic- it must be cleanly and clearly articulated comedy with one moment flowing effortlessly into the next as the stakes are raised and characters become more and more desperate. If you can create an evening in the theatre like that, you've directed a farce successfully in which "timing" is everything.