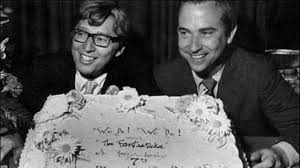 The Process
Tom Jones collaborated with J. Donald Robb on a musical adaptation of Les Romanesques from 1954 to 1956 as Harvey Schmidt was in the Korean War at the time. They originally titled the musical Joy Comes to Dead Horse, a rip-off of Rodgers and Hammerstein. The story was reset with two Texan families and a Mexican accomplice called El Gallo. The musical ended up being an edgy mix of Finian's Rainbow, Our Town, Zorro, and several other Shakespearean comedies. In 1956, it was produced at the University of Mexico, but the writers' colleagues deemed the show a disaster and they parted ways.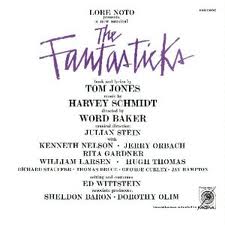 Jones was not calling it quits, however, and when Schmidt returned home from Korea, Jones invited him to collaborate on the musical. In June 1959, they received a call from director Ward Baker. He was offered an opportunity by Mildred Dunnock, an actress, to present an evening of three one-acts at Barnard College's Minor Latham Theatre in Manhattan. Baker said that he would include Joy Comes to Dead Horse in his show if it was shortened it into a one-act. Jones and Schmidt agreed, and in August 1959, this one-act (a.k.a Act One) opened at Minor Latham Theatre. It was a low-budget production which forced them to focus on the heart of the story without all the frills of a traditional Broadway musical. They accepted into their work their shared appreciation for Beat poetry and intelligent quirkiness while eliminating all the Rodgers and Hammerstein paraphernalia. They now rejected meaningless traditional standards (similar to the Beats), such as the fourth wall and realistic sets, and they discovered something more untainted and honest.
Lorenzo "Lore" Noto, a New York producer, saw the one-act adaptation of The Fantasticks and offered to produce it off-Broadway immediately. Jones and Schmidt went back to work, and developed the production back into a full-length musical. They cut songs, and began writing new ones. Jones wanted to open the show with a commedia troupe arriving and getting ready to present a play, so Schmidt wrote an overture to complement his idea. The musical opened off-Broadway at the Sullivan Street Playhouse in Greenwich Village on May 3, 1960 and ran for forty-two years. It reopened off-Broadway in 2006, and as of 2010, its original investors have earned back 240 times their original investments.
Old-Fashioned, Yet Revolutionary

The Fantasticks proves to be old-fashioned with its intimate physical production that is similar to the most ancient theatre dating back hundreds of years ago. The opening song, "Try To Remember", creates this "old-fashioned ambience" along with the characters. For example, the main characters are all commedia dell' arte types. Matt and Luisa, as they are the Lovers, are the equivalent of the Innamorati. The fathers are both the traditional father type, Gerontius. El Gallo is a Harlequin of today, and Hucklebee even makes a reference to the timeless commedia jester, the Pantaloon.
As old-fashioned as it may be, The Fantasticks was the beginning of the end of Rodgers and Hammerstein "rip-off" musicals, and is nevertheless innovative. It is essentially a typical and lighthearted musical similar to other musicals of the 1930s, but the obstacles are different in the sense that they are related to the convoluted turmoil of the Real World. Also, the renowned song "Try to Remember" was rather outdated as an opening number in 1960. Most musicals of this time period opened with big, show-stopping company numbers, but "Try to Remember" was an easy and tender nineteenth-century waltz.
Themes of Love and Life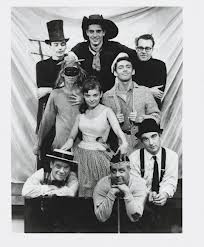 The Fantasticks does not only contrast with Shakespeare's romantic perspective on love, it also suggests that we never truly know when love is real or not, and that our addiction to "falling in love with love" (or the feeling of love) gets in the way of the real thing. The Fantasticks portrays the truth about growing up and falling in love, and how challenging, complex, and disastrous it can actually be. Despite how infuriating love can be sometimes, The Fantasticks proves that in the end, it is all worthwhile. At the end of the musical, the audience is left with not a perfect happy ending, but with some gray area instead in which we witness significant truth about marriage and how, although it can be tormenting, it is better than being alone.
The opening song "Try to Remember" asks of its audience to refrain from being skeptical and remember what it is like to believe in love at first sight. Although the song is beautiful and warm, the final verse about December warns us that this story will become dark, and that it will not be all about happiness and romance. The song directly tells us what the musical is about: "Without a hurt, the heart is hollow." In other words, true love is something that develops over time; it is complicated, honest, and brutal at times. One has to experience some pain on the path to experiencing pure love.
The Longest Running Off-Broadway Musical
Although Tom Jones and Harvey Schmidt struggled with mixed reviews, they persevered and this timeless musical has been discovered by audiences around the country and in at least sixty-seven foreign countries. Jones and Schmidt could have given up at their first experience with failure, but they continued to mold the script until it captured the attention of Lore Noto, who kept it running against all odds from 1960 to 2002. It inspired the creation of more nontraditional musicals such as Cabaret, Company, and others. To this day, seeing The Fantasticks is a priority for New York City tourists, and why? It has not strayed away from its original theme.
In Part 3, I will talk a bit more about how the characters of The Fantasticks contribute to the timeless theme of the musical. To read Part 1 in this series, please click here.
(Editor's Note: In this four-part series, Laura Cole examines the musical The Fantasticks, offering insights into it's literary connections, creation, major themes, and influences. The first entry in this series provides connections to both the original source and the literary movement of the 1950s as exemplified by the Beat Generation.)