Working in multiple facets of performing arts education, I come across a lot of kinds of people. I come across families filled with performers looking to get their kids involved in what they grew up with, families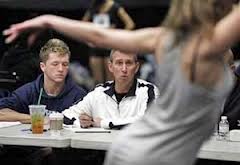 whose kids are first generation performers, and families whose kids are first generation performers but their parents think they know everything about the arts already. Every so often, you get parents who make it difficult for you to enjoy your job. Today's Broadway Educators blog is about finding peace in yourself when stage parents exist.
The Myth, The Legend
As a kid, I started seeing stage parents in theatre. My parents were simply the drivers and the applause after the curtain. They were proud of me but my decisions to do theatre, take voice lessons, and play piano were my own. Obviously, that wasn't the case for every parent. There were the parents who would kiss the director's behind for more stage time for their kids and the ones who would be rude to other people's children when they were doing well. I'd be sitting with my mom in the holding room for auditions and the other moms would be asking about my credits. Now, I deal with stage parents on my doorstep and I'm getting a totally different side of the madness!
In The Classroom
It seems to me that the majority of the stage parents I have don't have a history in performance. That's one of the reasons why they hover because they aren't entirely sure how to govern themselves. You should do your best to educate parents without being condescending. Help them pick their child's audition repertoire with thoughtful reasoning, look at parent overreactions from a neutral standpoint, and always bring it back to the child. Although the parent is the one paying for the services, it's always best to look at what is right for the kid in the end.
Some of my parents take it really personally when their kid isn't cast in a show or doesn't get "the lead." As the student's role model in performing who actually understands the way theatre works, offer positive feedback. These are kids after all and if they decide to go into theatre professionally, they need to be able to handle rejections.
What do you do if you're overwhelmed by stage parents? Tell us on Twitter!